Maulana Mohammad Ismail is the father of Maulana Ilyas, founder of Tablighi Jamaat.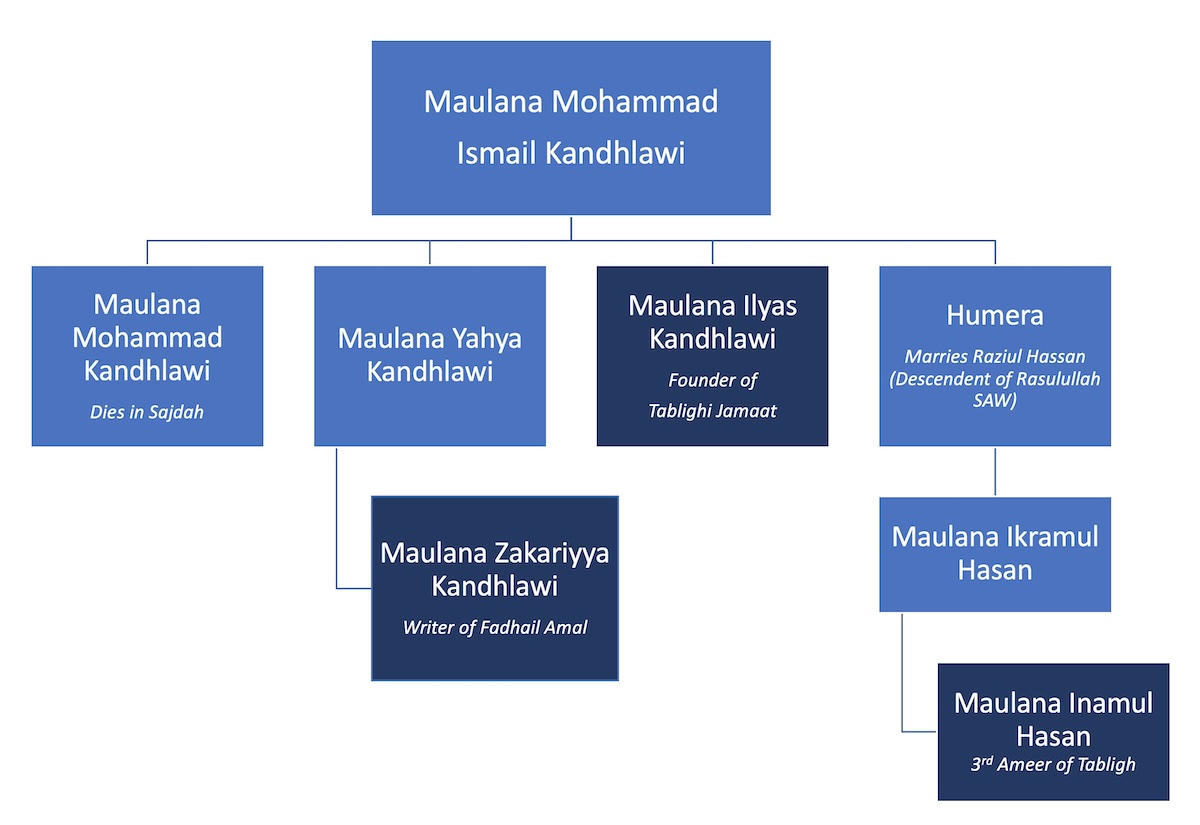 Early Days of Maulana Mohammad Ismail
On the outskirts of Delhi, near the tomb of Khwaja Nizamuddin, there lived seventy years ago, a godly person in a house on top of the red gate of the historical building called Chaunsath Khamba. His name was Maulana Mohammad Ismail.
The family of Siddiqui Sheikhs of Jhanjhana and Kandhla had been known for generations for their piety and learning. They were held in high esteem in the neighbourhood. The lines of descent of Maulana Mohammad Ismail and Mufti Ilahi Bakhsh became one, six generations upwards, with Moulvi Mohammad Sharif.
Maulana Mohammad Ismail's Lineage
Maulana Mohammad Ismail's lineage runs as follows: Maulana Mohammad Ismail, son of Ghulam Husain, son of Hakim Karim Bakhsh, son of Hakim Ghulam Mohiuddin, son of Molvi Mohammad Sajid, son of Molvi Mohammad Faiz, son of Molvi Mohammad Sharif, son of Molvi Mohammad Ashraf, son of Sheikh Jamal Mohammad Shah, son of Sheikh Baban Shah, son of Sheikh Baharuddin Shah, son of Molvi Mohammad Sheikh, son of Sheikh Mohammad Fazil, son of Sheikh Qutb Shah.
Mufti Ilahi Baksh
Mufti Ilahi Baksh Kandhlawi was among the most outstanding pupils of Shah Abdul Aziz Dehlavi. Besides being a distinguished teacher, author and legist, he was also a Unani physician of a high order. He possessed a thorough knowledge of both the rational and traditional sciences. He had a great command over Arabic, Persian and Urdu poetry as well, as is borne out of his commentary of 'Banad Su'ad' in which he has translated every line of Hazrat K'ab into Arabic, Persian, and Urdu verse. He left behind about 40 books in Arabic and Persian of which 'Shiyamul Habib' and 'Mathnawai Maulana Rum Ka Tamil' are more famous.
Mufti Ilahi Bakhsh Kandhlawi had taken Bay'at at the hand of Shah Abdul Aziz Dehlavi. A glowing proof of his sincerity and selflessness was that though he was a renowned spiritual mentor himself, on the death of Shah Abdul Aziz, he felt no hesitation in taking Bay'at at the hand of the latter's young deputy, Syed Ahmad Shaheed, who was about 28 years his junior in age, and in seeking guidance from him.
Mufti Ilahi Bakhsh Kandhlawi was born in 1748 and died in 1831 at the age of 83 years. All his sons and grandsons were men of learning and position. Scholarship and religiousness have been the characteristics of his family. Molvi Abul Hasan's 'Mathnawi', 'Gulzar-i-Ibrahim', which forms a part of his well-known work 'Bahr-i-Haqiqat', is a poem of rare spiritual feeling. Till recently, it was very popular. His son, Molvi Nurul Hasan, and all four grandsons, Molvi Ziaul Hasan, Molvi Akhbar, Molvi Sulaiman and Hakim Molvi Ibrahim, attained to face as worthy representatives of their celebrated ancestors.
Mufti Ilahi Baksh Kandhalwi's nephew was Maulana Muzaffar Hussain. The maternal granddaughter of Maulana Muzaffar Hussain was married to Maulana Mohammad Ismail. This was Maulana Mohammad Ismail's second marriage which was solemnised on October 30, 1868.
Maulana Mohammad Ismail was the tutor for the children of Mirza Ilahi Baksh
Maulana Mohammad Ismail was the tutor of the children of Mirza Ilahi Baksh (Note: Mirza Ilahi Baksh is not the same person as Mufti Ilahi Bakshh Kandhlawi). Mirzi Ilahi Baksh was related to Bahadur Shah Zafar, the last of the Mughal Emperors. He lived, in the house on the top of the red gate of Chaunsath Khamba. Close to it, was a small mosque with a tin shed in front which used to serve as the parlour of Mirza Ilahi Bakhsh. This was later called Bangle Wali Masjid.
Maulana Mohammad Ismai was spending his days in obscurity and even Mirza Ilahi Baksh had no idea of his high station till he had a personal experience of how the Maulana's prayers were granted by Allah.
Maulana Mohammad Ismail's Qualities
Worship, Zikr, attending to the needs of the travellers teaching the Quran and giving instruction in the Faith were his sole occupations in life. He used to take down the load from the heads of thirsty labourers who passed that way. He would then place it on the ground, draw water from the well and give it to them to drink. Then he would offer two Rakaat Salat expressing gratitude to Allah for giving him the opportunity to serve His bondsmen even though he did not deserve it. He had attained the state of Ihsan.
Once, he requested Maulana Rasheed Ahmad Gangohi to teach him Sulook. The latter remarked, "You don't need it. You have already attained the objective that is to be reached through this method. It is like a person who has read the Quran saying that he should also read the elementary textbook of Arabic because he has not begun with it".
Maulana Mohammad Ismail was very fond of the recitation of the Quran. An old wish of his was that he went on grazing the goats and reciting the Quran. He was very particular about some members of his family keeping vigil in the night. His second son, Maulana Yahya, used to study till midnight and then the Maulana himself would get up and Maulana Yahya went to bed. After that, for the last part of the night, he would wake up his eldest son, Maulana Mohammad.
Maulana Mohammed Ismail never bore a grudge against anyone. His detachment from the world was so complete that it had made him attached to everybody. All the persons who came into contact with him were impressed by his piety, sincerity and selflessness. Leaders of the different warring groups of Delhi held him in the highest esteem and put equal trust in him even though they disliked each other so much that none of them would offer Namaz behind each other.
Maulana Mohammad Ismail's Connection to Mewat
The link with Mewat was established in Maulana Mohammad Ismail's lifetime. It is related that, once he went out in the hope of finding a Muslim whom he could bring to the mosque and offer Namaz with him. On meeting some Muslim labourers, he enquired from them where they were going. "We are going in search of work", they replied. "How much do you expect to earn?" asked the Maulana. The labourers, thereupon told him about the daily wages they generally received. The Maulana asked, "If I give you the same here, what is the use of going elsewhere?" The labourers agreed and the Maulana took them to the mosque and began to teach them Namaz and the Quran.
He would then pay them their wages every day and keep them engaged in their lessons. In a few days, they developed the habit of offering Namaz. Such was the beginning of the Madrasa at Bangle Wali Masjid. These labourers were its first scholars. After them, about ten Mewati students always remained in the Madrasa. Their meals used to come from the house of Mirza Ilahi Bakhsh.
Maulana Mohammad Ismail's Death
Maulana Mohammad Ismail died on 26th February 1898 in Khajoor Wali Masjid at the Tiraha of Bahram in Delhi. The number of mourners at his funeral was so large. Long bamboo poles had to be tied to either side of the bier to enable them to lend a shoulder to it. Many people did not get a chance during the entire route of three-and-a-half miles from Delhi to Nizamuddin.
Muslims belonging to various sects and schools of thought, who never got together, joined the procession. The Maulana's second son, Maulana Mohammad Yahya, narrates "My elder brother, Maulana Mohammad, was a very soft-hearted person and had a most obliging nature. Fearing that he might invite someone to lead the funeral service behind whom people of another sect or group refused to offer the prayer, and, thus, an unpleasant situation arose, I stepped forward and said that I would lead the Service. Everyone then offered up the prayers peacefully and there was no dissent or commotion."
Owing to the vast concourse of men, the funeral service had to be held a number of times and the burial was delayed. During it, a venerable person and another man known for his spirituality had a vision that Maulana Mohammad Ismail was saying, "Send me off soon. I am feeling ashamed. The holy Prophet SAW is waiting for me"
Maulana Mohammad Ismail's Sons
Maulana Ismail had three sons: Maulana Mohammad was from the first wife. Maulana Yahya and Maulana Ilyas from the second wife. Maulana Ismail's second wife was the maternal granddaughter of Maulana Muzaffar Husain. Maulana Mohammad Ismail had married her after the death of his first wife.