Haji Abdul Wahhab was the third Amir of Tablighi Jamaat in Pakistan and the de facto leader of the Tablighi Jamaat Shura until his demise. He is also the fourth Caliph of the Sufi Tharekat Maulana Shah Abdul Qadir Raipuri. Haji Abdul Wahhab was ranked 14th among the 500 most influential Muslims in the world.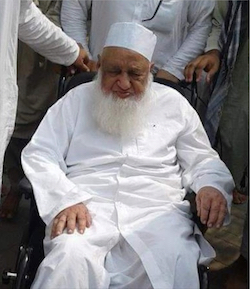 Haji Abdul Wahhab Early Life
Haji Abdul Wahhab was born in 1923. He belonged to the Saharanpur (UP) region of India and is ethnically a Rajput belonging to the Rao clan.
During his childhood, Haji Abdul Wahhab's family migrated to Burewala, Punjab. At that time Burewala was still part of British India. He graduated from Islamic College Lahore and became a Tehsildar (Tax officer) in Pakistan. During his youth, he was affiliated with Majlis-e-Ahrar-ul-Islam, where he was the organization's president in Burewala. He also joined the Sufi Order of Maulana Abdul-Qadir Raipuri (RA).
Haji Abdul Wahhab joins Tablighi Jamaat
In 1944, Haji Abdul Wahhab went to Nizamuddin Markaz for the first time and joined Tablighi Jamaat at the age of 22.
The founder of Tablighi Jamaat, Maulana Ilyas (58 years old at that time) was always worried about what would happen to the movement if he passed away. It was rumored that when he saw the young Hj Abdul Wahhab, his heart was filled with hope, knowing that the effort would be protected in good hands.
Six months later, Maulana Ilyas passed away. Hj Abdul Wahhab was able to be in the company of Maulana Ilyas for the 6-month duration.
Hj Abdul Wahhab then quit his job and dedicated his entire life to the work of Tabligh. He became one of the 5 people in Pakistan who dedicated their entire life to the work of Da'wa.
Full History of Tabligh – Origin, Expansion and the Fitna (Split)
Haji Abdul Wahhab Migrates to Pakistan
In 1947, Haji Abd Wahhab together with a Jamaat was instructed by Maulana Yusuf (the second Amir of Tablighi Jamaat) to migrate to Pakistan during the Indian-Pakistani Separation Conflict. The Jamaat survived a train massacre. Upon arriving in Pakistan, Haji Abdul Wahhab took residence at the Raiwind Markaz in Lahore and has lived there since.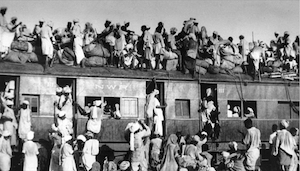 In April 1954, during the first Ijtema conducted at Raiwind Markaz, Maulana Yusuf, who was the Amir of Tablighi Jamaat at that time, made a special Tashkeel (open request): Who is able to give their life for the effort of Deen (Tabligh)? Haji Abdul Wahhab was the first out of 18 people who stood up. All 18 of them gave their Bay'ah (Pledge of Allegiance) to Maulana Yusuf and made a promise never to leave Raiwind Markaz even if they had to die for it.
Hardships during the early days at Raiwind Markaz
Hafiz Sulaiman, who was one of the 18 people who gave the pledge for life recollected the hardships they went through in the early days of Raiwind Markaz. Three days of hunger were normal. He said:
"Sometimes we experience extreme hunger. Allah SWT would then deliver us food. We thanked Allah SWT but suddenly some guests came. Miyaji Mehrab would take the food and serve it to the guests instead. We would often divide a small piece of bread into four. The bread was made from corn or barley and it was very rare for us to get wheat bread. Very rarely had curry as well. Usually, we would eat dried chilies and salt mixed with water to make curry which we would eat with a small piece of bread. And despite all this hardship, hardly anyone came to the Markaz. We also had to manually gather firewood from the bushes and carry it above our heads. Sometimes, after we took down the firewood, there were snakes in it."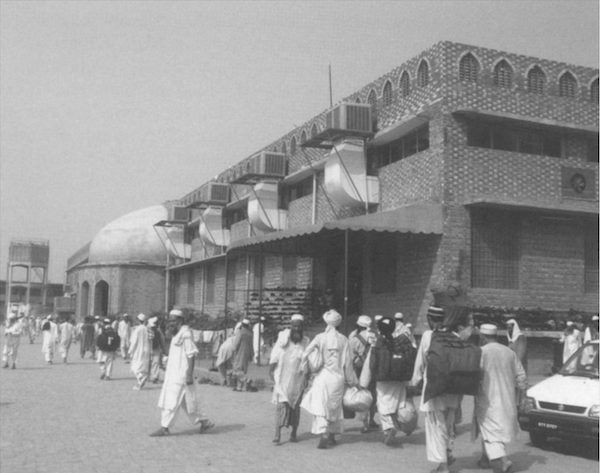 Hafiz Sulaiman further narrates:
"One time, there was no food for 18 days. We prayed to Allah to send us food. After 18 days, I received news that my daughter was sick and was in a dying condition so I had to visit her. When I got home, my daughter had already passed away. My relatives then came and brought curry and bread. When I saw the food, I forgot about my daughter's death and ate my fill. Upon seeing me, the guests told me off for being a heartless father. They had no idea that I haven't had food for 18 days."
Haji Abdul Wahhab's appointment as Amir of Pakistan and Member of the World Shura
During the Raiwind Ijtema 1992, Haji Abdul Wahhab (70 years old at that time) was appointed as the next Amir of Pakistan.
On 14th June 1993, Haji Abdul Wahhab was appointed to the World Shura by Maulana Inaamul Hasan (The third Amir of Tablighi Jamaat).
Haji Abdul Wahhab Age (Death)
Haji Abdul Wahhab age was 96 years old at the time of Death. He passed away on 18th November 2018 after contracting Dengue Fever, emulating a Sunnah of the Holy Prophet SAW who also passed away due to high fever.
Haji Abdul Wahhab's health has been deteriorating since the year 2010. As his health continued to deteriorate, he was known to speak in a crude voice which required an interpreter sitting next to him to repeat with clarity the words he spoke.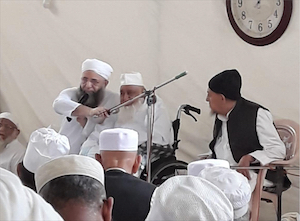 Haji Abdul Wahhab Funeral (Janaza/Janazah)
Haji Abdul Wahhab's Funeral prayer was conducted on the 18th of November 2018, the same day he passed away. He was 96 years old at the time of death. Haji Abdul Wahhab Janaza was led by Maulana Nazrur Rehman, who was 90 years old at that time. Maulana Nazrur Rehman is seen as the natural successor to Haji Abdul Wahhab. Thousands of people attended Haji Abdul Wahhab's funeral prayers.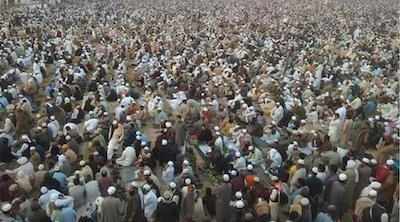 His death was mourned by many. Even the then Prime Minister of Pakistan Imran Khan sent condolences. He was buried near Raiwind Markaz.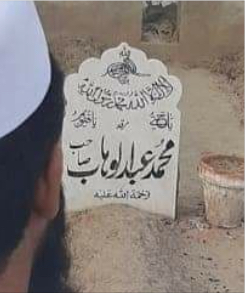 There were several witnesses of a beautiful fragrance emanating from Haji Abdul Wahhab's grave. Maulana Makki Al Hijazi claims that the fragrance was proof that Allah SWT wants us to know that he was a man of truth (Ahlul Haq) despite many that have denied and slandered him (mostly due to the Tablighi Jamaat Split).
NEXT: Read the Full History of Tabligh – Origin, Expansion and the Fitna (Split)