Darul Uloom Deoband and many other institutions have issued several Fatwas against Maulana Saad (See: List of Fatwas). For any person, this should be enough to distance oneself from Maulana Saad; not only to save one's Deen but to save the effort of Da'wa from being destroyed and disconnected from the Ulema.
Ultimately, we would like to ask: How can we allow someone who has been issued fatwas to drive this global effort and be the face of Tabligh?
Maulana Saad has tried to counter these fatwas through various ways. Here, we list and answer them all.
Assalamualaykum Brothers, before reading further, please understand that our aim is to save this effort of Da'wa! We do not promote hate and certainly not backbiting. Many of those who are with M Saad don't really know what's going on. They are just following their local Markaz (Tablighi Centres). The issue at stake is whether one should support M Saad in spite of these Fatwas, at the expense of breaking Tablighi Jamaat apart. Isn't it bad enough if such a person becomes the face of Tabligh? Regardless, No matter how bad a Muslim is, he is still our Muslim brother. We love and hate only for the sake of Allah.
TLDR; Here are the 10 Ways Maulana Saad Counter Deoband's Fatwa:
#1 – Attacking the credibility of Deoband
M Saad has attacked the credibility of Deoband in order to discredit the Fatwa. For example, it has been propagated that:
Deoband is not as "Clean" as we think. Deoband themselves split into two in 1982 (becoming Darul Uloom Deoband & Darul Uloom Waqf). Some even went as far as telling a one-sided story of the event, claiming that the Arshad Madani family was evil and politically motivated.
They say that Deoband today is not the same as Deoband in the past
Our Answer
Deoband is an independent non-government-controlled institution. It is far better than any government-controlled institution worldwide.
Deoband is also the biggest representation of the Hanafi School of Thought which forms the biggest group within the Ulema of Ahlus Sunnah Wal Jamaah today. To simply discredit it just because one does not like one of its Fatwas is absurd.
Now regarding the Deoband split, this was an administration split that occurred 40 years ago in 1982. Ironically, the other split counterpart (Darul Uloom Waqf) has never issued any statement in support of M Saad at all. In fact, until now, we have yet to see a single official Fatwa from any well-known institution countering Deoband's Fatwa against M Saad in detail.
#2 – Claiming that Maulana Saad has repented and made Rujoo
After Deoband's first 2016 Fatwa, M Saad initiated a Rujoo process. This is often used to proof that M Saad has repented.
Our Answer
We have covered M Saad's Rujoo in detail here. In summary:
Maulana Saad DID NOT do a full Rujoo. His Rujoo was only limited to his statement on Prophet Musa AS.
Maulana Saad continues to make controversial statements even after the Rujoo. Is that a sign that someone has repented?
Darul Uloom Deoband and many other institutions have not retracted their fatwas and stance on Maulana Saad. In fact, in 2023, they issued a new fatwa on Maulana Saad claiming their previous remarks on him still hold (See the 2023 Fatwa).
#3 – Claiming that we should not follow Deoband as Deoband discourages Masturat Jamaat
It is known that Deoband has not recommended Women's Jamaat (Masturaat Jamaat), a Jamaat where both men and their Mahram (usually the wife) go together.
This reason has been used to claim that we can be selective in taking Fatwas, i.e. since we are not obeying Deoband's Fatwa on Masturat Jamaat we should also not obey their Fatwa on M Saad.
Our Answer
Firstly, Deoband has never said we must NOT go for Masturaat Jamaat. They simply don't recommend it. There is a big difference in this. Think of it this way: I don't recommend you use a Mobile Phone. If you use it, it is at your own risk.

On the other hand, many well-known institutions have encouraged Masturat Jamaats (Example here).
Secondly, it is not just Deoband but many other Institutions have issued Fatwas on M Saad. Even M Saad's own father-in-law (Maulana Salman Mazahiri) has issued a Fatwa on him.
Thirdly, we have yet to see any Fatwas from other well-known institutions defending M Saad in detail from all these Fatwas. This is far from the issue of Masturat Jamaat as many institutions have praised and supported it.
#4 – Claiming that Deoband misunderstood his "high-level" speech of Taqwa
The claims below have been made:
M Saad's speech is a high-level speech. They say he is not talking in the domain of "Fatwa" but the domain of "Taqwa".
The Fatwa was issued based on improper analysis. Deoband only listened to part of his speeches.
The speeches were taken out of context and were misunderstood.
In Indonesia/Malaysia we have also heard a reference to the story of Mansour Al-Hallaj, a 9th Century Soofi, who was executed due to his controversial poetry.
Our Answer
To answer this, let us first ask:
Is the claim that Deoband made a mistake a fair assessment? or is it just because one does not like their Fatwa?
Does this mean that whenever a person doesn't like a Fatwa, one can just throw it away? What is the purpose of the Ulema then? To satisfy one's liking?
Ultimately, claiming Deoband's Fatwa on M Saad was wrong is a biased opinion. It is not at all comparable to an objectively impartial and neutral assessment from a well-established Daarul Ifta of Deoband.
Also, to say that Deoband only listened to part of M Saad's speeches is far from reality. All of Saad's speeches are available and sold in Nizamuddin Markets in CDs. Many are even available on YouTube. Deoband took almost 2 years to finalize this Fatwa (2014-2016).
Their recent 2023 Fatwa shows an even more detailed analysis. To say that these Fatwas were not based on proper analysis is totally absurd. Here, they have stated that:
It seems that the incumbent person continues to insist on his distorted view and self-made ideas. This proves the position of Darul Uloom Deoband that the matter is not a partial misunderstanding of parts of the speech.

Darul Uloom Deoband Latest Fatwa 2023
Using the story of Mansour Al-Hallaj as an example M Saad's speeches were misunderstood.
The story of Mansour Al-Hallaj is well known. He was a famous 9th-century Soofi who was executed due to his controversial statements. Al-Hallaj's most controversial statement was "Ana Al-Haq" which means that "I am the Reality". The term "Al-Haq" can also refer to Allah, and some people assume that he claimed himself as God with this statement. It was mentioned that on his execution, the blood that spilled formed 'Allah' though we could not verify the authenticity of this incident.
The problem with comparing the story of Mansour Al-Hallaj with M Saad is that the premises are very different:
The Shafi'i Qadhi at that time refused to issue a Fatwa on Al-Hallaj as being misguided. They said that his words were not enough to prove him wrong. This is different from the case of M Saad, where many Fatwas were issued to him.
Al-Hallaj's execution was politically motivated and was orchestrated by a Shia Administrator at that time. M Saad's Fatwas were issued by one of the most respected institutions in the world.
Al-Hallaj was expressing poetry, which was meant to be understood in an abstract manner. M Saad on the other hand was giving a Bayan which is to be understood as a clear direct speech.
Ironically, Mansour Al-Hallaj's story was also used by Qadiyanis to justify Mirza Ghulam's words.
#5 – Claiming that the Fatwas were politically motivated
It has been claimed that Deoband was pressured to issue the Fatwa. There were also outrageous claims that Deoband was paid to write the Fatwa. They claim that many Deoband Ulema left Deoband after the Fatwa was issued. The timing of the Fatwa (at the point of leadership dispute) was also indicative of a political motive.
Our Answer
These allegations are purely baseless. Anyone can pluck anything out of the air! Such allegations are also dangerous as they may incite his followers towards enmity and violence.
Ultimately, there is no proof for it. The statement "Many Deoband Ulema left Deoband after this Fatwa" is also false. There is no proof of the validity of this claim.
As for the timing of the Fatwa, M Saad's ideologies in his speeches have been criticized since 2001. Darul Uloom Deoband itself has been receiving complaints since 2005. Their official study of his statements started in 2014. They even sent letters to M Saad to reprimand him before publishing the Fatwa as they wanted to protect his honour, as well as the good image of Tabligh. They waited for a considerable period but M Saad simply ignored them. This issue is thus not something new and to claim the timing as indicative of a political move is incorrect.
#6 – Claiming that they have Ulemas as well, and it is just a difference of opinion
M Saad claims that they too have Ulema supporting them and this is all just a misunderstanding or "difference of opinion".
Our Answer
This reasoning has misled many. Here, we answer with 4 simple points:
Just because a group has Ulemas does not mean the group is automatically correct. Mirza Ghulam Ahmad (Qadiyani) also had Ulemas of Hanafi Darul Uloom graduates supporting him. In fact, his successor (Hakeem Noor-ud-Din) was a scholar as well. There are Scholars who support corrupt politicians. Since these corrupt politicians have scholars on their side, does it automatically make them corruption-free?
We are not talking about individual Ulema support, but the institutions of Ulema. These institutions have studied the matter without prejudice. In Islam, Ijma of Ulema (Consensus of Ulema) is one of the four valid sources of our religion. Many institutions have issued Fatwas against M Saad. However, there is not a single Fatwa from any well-known Institution that has defended M Saad.
We need to understand what kind of support an Ulama is giving. If an Ulama is simply visiting M Saad, there is nothing wrong with that, nor is it indicative that they agree with him. M Saad is still our Muslim brother, there is nothing wrong with visiting or talking to him.
A "difference of opinion" can only be qualified when there is an actual "difference of opinion"! i.e. when there are an equal number of contradictory Fatwas issued on a matter. Until now, there is not a single Fatwa that has been issued from any well-known Institution countering in detail the Fatwas against M Saad. This thus cannot at ALL be qualified as a 'difference of opinion'. Allah SWT has made this easy for us!
#7 – Misquoting Deoband's Fatwa #69158, claiming those against Nizamuddin are misguided
In August 2016, Deoband issued Fatwa #69158:
Those who say the people of Nizamuddin are misguided are the ones who are misguided!
People who are in Nizamuddin are of the Ahlul Haq (Righteous People) and Ahlus Sunnah Wal Jamaah!
This Fatwa is often quoted claiming that Deoband is actually with M Saad and those who are against him are the ones who are misguided.
Before anything, please note that this Fatwa has been deleted from Deoband's website! Check the following link which does not exist anymore:
https://darulifta-deoband.com/home/ur/fatwa/69158
We however have an old screenshot of that Fatwa before it was deleted: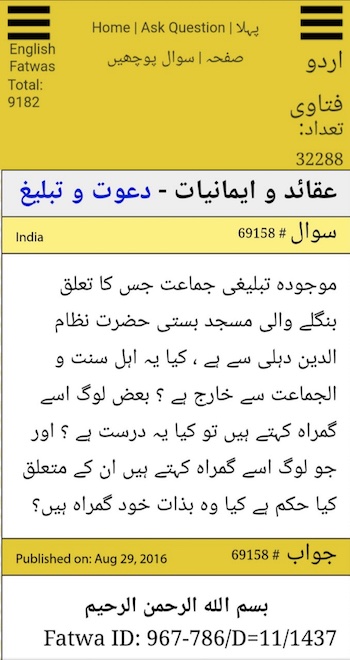 Our Answer:
First of all, as mentioned before, this Fatwa has been deleted by Deoband!
Secondly, this Fatwa was issued on the 29th of August 2016. This date is BEFORE Deoband's First Fatwa on M Saad. The first Fatwa was issued on 28th November 2016. The newer Fatwa was a result of a more lengthy analysis and singles out M Saad as misguided and deviated from the path of the Ahlus Sunnah Wal Jamaah. They have not passed any judgement on the entire Nizamuddin people as a whole. Also to note, many elders were still living in Nizamuddin such as Maulana Yaaqub and Maulana Zuhair albeit do not support M Saad.
#8 – Misquoting Deoband's 2017 Clarification, claiming Deoband has cleared Maulana Saad
On 9th August 2017, Darul Uloom Deoband issued a clarification letter that states that they are not involved in the administrative matters of Tablighi Jamaat (i.e. Shura vs. Saad) and maintain neutrality on this.
Click here => Full letter and English translation

It has been claimed that his letter clears M Saad from his errors since Deoband is "Neutral".
Our Answer
The conclusion made is far-fetched. Deoband's statement does NOT clear M Saad at all. The statement simply says that Deoband is neutral and neither supports "Saad" nor "Shura".
This is because Deoband is looking at the bigger picture. Even if the dispute between Saad and Shura is resolved, the Fatwa on M Saad still holds.
Other Deoband's Fatwa on neutrality
Other similar fatwas on the neutrality of Deoband with regard to the Tablighi Jamaat Split have also been quoted:
As mentioned previously, being neutral on the Tablighi Jamaat administration does not mean they have cleared M Saad. Deoband is looking at the bigger picture. Even if M Saad unites back with the Shura, the Fatwa still holds.
#9 – Misquoting Deoband's older/deleted Fatwas praising Maulana Saad
Some older Deoband fatwas which seem to be positive on M Saad have been quoted. These Fatwas predate the first 2016 Fatwa on M Saad.
As a matter of fact, these Fatwas have been deleted! For example:
We only have a copy of the 2014 Fatwa #52989 which is as follows:

Question:
About 8 to 10 days ago I had a dream where I saw M Saad. His face was facing north. He asked me to give Karguzari about Nurani Masjid. I told him that we normally meet people at Isha time. We would then bring people to the Masjid and give Da'wa to them. This I would do sometimes. All of a sudden he asked me, "Are you serving the markaz people or not?" I said yes, I do Khidmat as well. Then I woke up.
Deoband's Answer:
Masha Allah, you are a very good person. M Saad and all the respected elders in Nizamuddin are worthy of praise as the ummah gets many benefits from them. Continue making efforts sincerely and follow the Usool. This is important for everyone.
[End of Deleted Fatwa]
Our Answer
These older fatwas have been deleted by Deoband! The deletion shows Deoband's seriousness in taking a stand against M Saad.
Many of us here at Tablighi-Jamaat.com were M Saad's followers before. We learnt the truth, admitted our mistakes and had to step on our pride to accept it.
#10 – Misquoting Deoband Fatwa #152687, claiming Deoband have no issues with M Saad and Nizamuddin
In Darul Uloom Deoband's Fatwa #152687, a questioner asks whether a masjid can prohibit a Jamaat if the Jamaat is affiliated with Nizamuddin.
This fatwa has been partially misquoted as:
It is not right to prevent a Jamaat from working in the Masjid because they are affiliated with "Nizamuddin".
With this, it is concluded that Deoband is 100% OK with Nizamuddin and the Fatwa on M Saad has been cleared.
Our Answer
The answer in Deoband's Fatwa #152687 has only been partially quoted. Deoband's full answer is as follows:
If a Jamaat refrains from exaggeration in their Bayans, Da'wa affairs and observes the Aa'dab of the Masjid while staying there, then it is not right to prevent the Jamaat from working in the Masjid simply because they are affiliated with "Nizamuddin". Those who prevent the Jamaat from working in the Masjid despite knowing that the Jamaat will refrain themselves from doing the above-mentioned matter, should not do so.
Link to the Fatwa on Deoband's Site.
Nowhere in the fatwa does Deoband clear M Saad's mistakes. In fact, it further emphasizes his mistakes to such an extent that Deoband recommends putting conditions on such Jamaats.
Conclusion
In summary, it is impossible to counter Darul Uloom Deoband's Fatwa against M Saad. Regardless of whatever counter is given, our opening statement still holds:
Would we allow someone who has a history of reckless driving to drive our car? This is the blessed effort of Da'wa! How can we allow someone who has been issued fatwas to drive this global effort? Let alone be the face of Tabligh?
May Allah SWT guide us all.