On the 9th of August 2017, Darul Uloom Deoband issued a letter stating that they are not involved in the administrative matters of Tablighi Jamaat (i.e. Shura vs Saad) and maintain neutrality on this.
Darul Uloom Deoband is looking at the bigger picture here. Even if the Shura vs Saad dispute is resolved, the Fatwa on Maulana Saad still holds.
English Translation
Date 09/08/2017
Reference 499
An Important Clarification
The mutual disagreement of Tablighi Jamaat leaders is not a secret anymore. Even those who aren't familiar with the problems of the Muslim world are fully aware of it.
Since the beginning of the disagreement, the elders and leaders of Darul Uloom Deoband have always hoped that the elders of Tablighi Jamaat resolve their disagreement as soon as possible through mutual negotiation.
Along with this, Darul Uloom Deoband has repeatedly expressed and declared its position regarding this disagreement. The disagreement is related to the internal and administrative affairs of the Jamaat. It is not directly related to religious sciences and laws. Darul Uloom Deoband's main scope is the teaching and understanding of these religious sciences, it's preaching and dissemination. Thus so, Darul Uloom Deoband has nothing to do with this disagreement.
Despite Darul Uloom Deoband's declaration of its neutral position, there is a continuous effort by a party to convince others that Darul Uloom Deoband is a counterpart of a particular party in the (Tablighi Jamaat) disagreement. This rumour is false. Not just the people of India, but others in foreign countries too want to know the correct position of Darul Uloom Deoband in this matter. A large number of them have directly questioned Darul Uloom Deoband in this regard.
Due to this, Darul Uloom Deoband wishes to inform once again in clear words, to those who are in doubt: Darul Uloom Deoband has nothing to do with the current internal disagreement of Tablighi Jamaat.
As long as this difference of theirs remain, Darul Uloom Deoband will remain completely isolated from the activities of both of them. As far as the matter of the invitation and preaching of religion is concerned, Darul Uloom Deoband, since its foundation, has always been involved in the religious education and training of the youth of the nation according to the circumstances and sources on the Nahj, the service of Da'wah and Tabligh has been going on, which is obvious, and this process, Alhamdulillah, is continuing as usual and God willing, it will continue in the future as well.
O Allah, please correct the affairs between our hearts, and let us agree only with what you like and please.
Abul Qasim Nomani
Hon'ble Darul Uloom Deoband
16/11/1438 = 9/8/2017
Original Urdu Text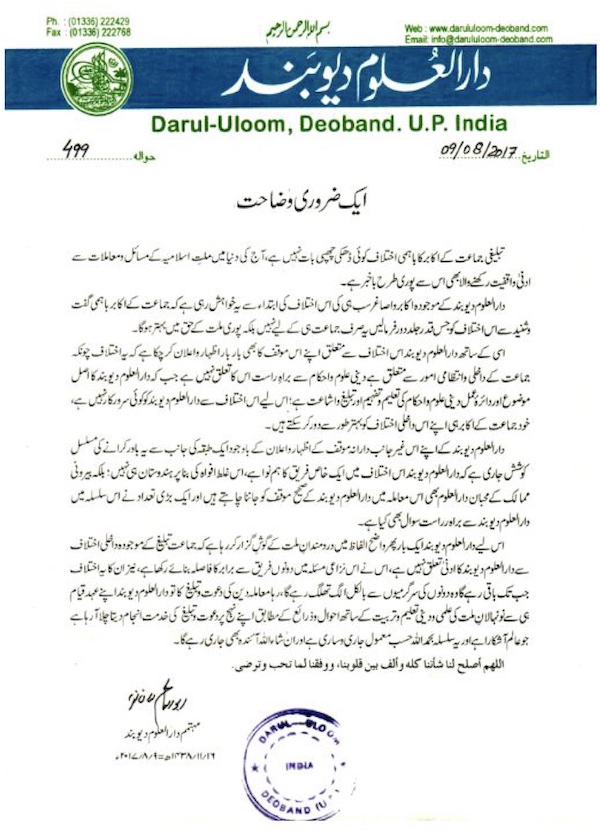 التاريخ 09/08/2017 حواله 499
ایک ضروری وضاحت
تبلیغی جماعت کے اکابر کا باہمی اختلاف کوئی ڈھکی چھپی بات نہیں ہے، آج کی دنیا میں ملتِ اسلامیہ کے مسائل و معاملات سے ادنیٰ واقفیت رکھنے والا بھی اس سے پوری طرح باخبر ہے۔
دارالعلوم دیوبند کے موجودہ اکابر واصاغر سب ہی کی اس اختلاف کی ابتداء سے یہ خواہش رہی ہے کہ جماعت کے اکابر باہمی گفت و شنید سے اس اختلاف کو جس قدر جلد دور فرمالیں یہ صرف جماعت ہی کے لیے نہیں بلکہ پوری ملت کے حق میں بہتر ہوگا۔
اس کے ساتھ دارالعلوم دیوبند اس اختلاف سے متعلق اپنے اس موقف کا بھی بار بار اظہار و اعلان کرچکا ہے کہ یہ اختلاف چونکہ جماعت کے داخلی وانتظامی امور سے متعلق ہے دینی علوم و احکام سے براہِ راست اس کا تعلق نہیں ہے جب کہ دارالعلوم دیوبند کا اصل موضوع اور دائرۂ عمل دینی علوم واحکام کی تعلیم و تفہیم اورتبلیغ واشاعت ہے؛ اس لیے اس اختلاف سے دارالعلوم دیوبند کو کوئی سروکار نہیں ہے، خود جماعت کے اکابر ہی اپنے اس داخلی اختلاف کو بہتر طور سے دور کرسکتے ہیں۔
دارالعلوم دیوبند کے اپنے اس غیرجانبدارانہ موقف کے اظہار و اعلان کے باوجود ایک طبقہ کی جانب سے یہ باور کرانے کی مسلسل کوشش جاری ہے کہ دارالعلوم دیوبند اس اختلاف میں ایک خاص فریق کا ہم نوا ہے، اس غلط افواہ کی بنا پر ہندوستان ہی نہیں؛ بلکہ بیرونی ممالک کے محبان دارالعلوم بھی اس معاملہ میں دارالعلوم دیوبند کے صحیح موقف کو جاننا چاہتے ہیں اور ایک بڑی تعداد نے اس سلسلہ میں دارالعلوم دیوبند سے براہِ راست سوال بھی کیا ہے۔
اس لیے دارالعلوم دیوبند ایک بار پھر واضح الفاظ میں دردمندانِ ملت کے گوش گزار کررہا ہے کہ جماعت تبلیغ کے موجودہ داخلی اختلاف سے دارالعلوم دیوبند کا ادنیٰ تعلق نہیں ہے، اس نے اس نزاعی مسئلہ میں دونوں فریق سے برابر کا فاصلہ بنائے رکھا ہے، نیز ان کا یہ اختلاف جب تک باقی رہے گا وہ دونوں کی سرگرمیوں سے بالکل الگ تھلگ رہے گا، رہا معاملہ دین کی دعوت وتبلیغ کا تو دارالعلوم دیوبند اپنے عہد قیام ہی سے نونہالانِ ملت کی علمی و دینی تعلیم وتربیت کے ساتھ احوال وذرائع کے مطابق اپنے نہج پر دعوت وتبلیغ کی خدمت انجام دیتا چلا آرہا ہے جو عالم آشکارا ہے اور یہ سلسلہ بحمداللہ حسب معمول جاری وساری ہے اور ان شاء اللہ آئندہ بھی جاری رہے گا۔
اللهم أصلح لنا شأننا كله وألف بين قلوبنا، ووفقنا لما تحب وترضى.
ابوالقاسم نعمانی
مہتمم دارالعلوم دیوبند
16/11/1438 = 9/8/2017